These templates for intentional community agreements are to help groups in the forming phase especially. Documenting your agreements can help your founding members get on the same page. It also can help potential new members to understand whether your vision and decisions will be workable for them. If they are going to join in and make substantial contributions, they will want to either help make the decisions or know about the decisions that have already been made.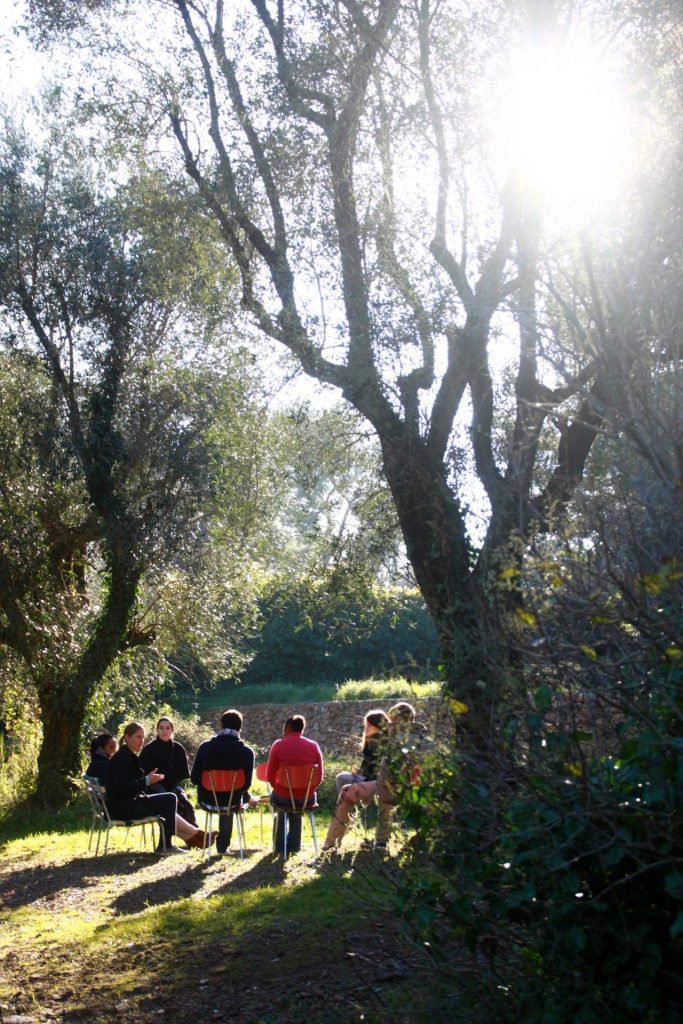 Templates Help Clarify Expectations
These ICmatch templates prompt you to discuss important issues before they become problematic. You may feel confident that everyone's good intentions will lead you all to find a way to meets everyone's needs or compromise, anytime you have a disagreement. We have learned this is overly optimistic. These discussions are to help you all compromise less by finding a good fit from the start. There are many groups of idealistic and motivated communitarians who discover only after substantial investment that their fervent ideals are not in as much alignment with each other as they had assumed. From reading about many founders' successes and failures, we've learned that tackling some of these challenging issues from the start can help groups base their community formation on a more realistic understanding. It's like a prenup: It seems to lessen some of the romance, but it can lessen a whole lot of uncertainty when unexpected or challenging situations arise. The lists within the templates are meant to tip you off to various alternatives you may not have considered.
Suggestions for Formatting Your Documents
The templates are set up with multiple choice items such that your founders' group can simply delete the items that do not apply to your group or which you decided against.
To create an editable version, cut and paste the entire page of a template into Google docs or somewhere you can all work on it. You might want to use the format function (paint-roller icon) to wipe out the oversized headings.
If you copy and paste into a Microsoft Word document, it will already have the headings formatted to populate a table of contents. To create an automatic-update table of contents that you can click to bring you to each section, do the following:
Delete the existing table of contents.
Go to "insert" in the menu bar at the top, then select "index and tables."
Select the tab at the top "table of contents," then select "okay."
After you delete the text sections that don't apply to your group, you can either auto update or manually update.
If you get stuck, you can usually find "how to" instructions with an internet search.
Suggestions for General Strategy for Agreements
ICmatch is designed to help your group find each other and gel faster than it would happen otherwise. It still won't be as fast as you want it to be. You'll have to make a call about starting your meetings with five matching members, or waiting until you have more so that you'll still have 5 if a few drop out. If you haven't been interacting much, it might be better to wait until you have at least 10 potential members. That way, there's more chance that some will find strong compatibility, and you may even end up with two separate groups that can remain supportive.
While there's a lot we know about group formation, every group is going to be unique. If you choose to share your journey with us, it might help other groups learn what works and what to avoid.
Keep in mind that you may want to add in more members over time. If there are options that everyone in your founders group is okay with, leave them for a later decision instead of deleting them.
Share with each other your "deal breakers" sections in case some haven't read that section of others' profiles. If you still feel like there's enuf compatibility, at least you'll be aware of some challenges to come. You may want to have an initial meeting to see if you can get some potential compromises or win-win solutions worked out. This may fragment the group a bit, as some may be compatible with the coordinator but not with each other. Better to know this early on, even tho it can feel disappointing.
If you start with the visioning process, which is described as part of creating the vision statement, this sets a good foundation for those who have compatible vision. If one or more of the members has a different vision, it's best for them to recognize that before spending too much time with the group.
Check out our page on roles for

founder's group members

. Once you have these roles taken on by your group members, leading the team in a discussion of the topics covered in the templates can be the responsibility of the member whose role is closely involved with a topic.
In as much detail as you have agreed on, write up the preferences of your group regarding the various topics. This will help you communicate with others whether they're likely a fit or not.
As your leadership team gets more clear on your agreements, the ICmatch member who is the group coordinator (and others if they choose to) could adjust their personal profile responses to match the group agreements. This will also save the members and especially the coordinator time, because you won't be matching up with and reviewing profiles of people who aren't a good fit with the group decisions. People who are a good match will inquire about joining your group, while others will be able to determine whether they're a good fit, with little or no need to correspond.
Guide to number of members in your founder's group
Examples of Agreements from Existing Communities
We recognize that each group will need something slightly different depending on the size, purpose, planned duration, and composition of their community. For groups that are at a phase in which they are planning legal founding documents, a much longer and more detailed set of agreements will be needed. We recommend taking a look at the documents of long standing communities of a type that matches some aspects of your community, such as the following:
See the Examples and Resources sections within Community Types pages for other examples of founders' documents. The templates for intentional community agreements cover the topics in the profile questions, but there are other helpful resources specific to various community types.
Vision and Mission
There may be people who are a decent cultural fit with the group even if they don't agree on every point. As long as they are okay with the current direction and will stick to the rules, compliance might be enuf for your group. However, this is a risky assumption. Often a group of idealists imagines that their group's values are in alignment. After much investment of time and resources, some groups find that their ideals are more different than they had thought. Are there core values that each member needs to be committed to in order for the IC purpose to be met? Can each member agree on a vision of what success looks like, and a mission statement?
Guide to Creating Vision and Mission Statements
Condensed IC Description
It is helpful to create a short overview, mostly to help others quickly understand the gist of what you're about. It will list the overall community type (e.g., spiritual practice based resource-sharing commune or off-grid medical risk bubble tiny-homes on shared land. The template also encourages you to briefly mention any food production plans, how far along your group is in establishing the community (e.g., forming phase). The next few brief mentions are the number of members, type of governance process, mission, and links to group documents. Keep this to a short paragraph so that the condensed IC description will fit in the 100-word limit for the Team Up page. Here's our template for writing up your group's agreements:
Template: Condensed Description of Your Forming Intentional Community
Governance (Decision-making)
This topic comes first because in order to stick together and feel that the situation is mostly fair, you have to agree on how to decide and who decides. Here's our template for writing up your group's agreements:
Template: Governance Model and Process
Legal Structure
These weighty and lasting decisions such as property purchase could be finalized several years after the community has been functioning as a decision-making unit and experimenting with living with or near each other. Until that time, your group may benefit from living as closely to the planned contract as the current housing arrangement allows for. The planned housing ownership type and purpose of the IC will determine what legal structure and exact location makes most sense for your group. The shared purpose might include a business, non-profit services, or a manner of selecting members. All these options are governed by laws that can change by jurisdiction. Thus it's helpful to discuss these topics as a group and with a local lawyer before making a final decision about legal structure. You can note in your agreements and IC description which you are considering or leaning toward. The Contracts page in the footer has many templates, but the best place to start is our list of legal structure options that has been reviewed by an estate planning lawyer for accuracy.
Financial Agreements
Why have a detailed focus on finances when community is supposed to be all about sharing freely and getting away from the self-centeredness of mainstream culture? It turns out that sharing can get complicated pretty quickly when people start to feel entitled based on reciprocity norms or what they thought was promised. This is one of the main topics that splits up forming-phase communities. In fact, in social research, it's also reliably in the top two reasons why people divorce. If we can do a better job at creating realistic expectations up front and sticking to commitments to what we have decided is fair, we have a better chance of making it last.
This template covers topics that are prominent in the forming phase: financial risk tolerance, sharing rented space, visiting fees, required disclosures, application fees, joining fees, expected regular financial contributions, and recouping investments if leaving. These topics might be hammered out in more detail later, and formalized in legal documents, but at this phase they might be best seen as working documents subject to revision. These can help you refine details before you make formal contracts. These can also help you recognize who you can trust to keep agreements.
If you are trying out income sharing, you might find these googlesheets budget form and budgeting protocol useful.
Here's our template for helping you write up your group's agreements, to get you thru the forming phase :
Template: Financial Agreements
Benefits and Accountability for Work Contributions
It is important to ensure that your agreements about benefits and accountability for work contributions are written. Record your time volunteering. You might even take a photo of your finished work each time, even if it is only for your own recollection. If there comes a time that someone who hasn't noticed your work begins to question your contributions, you'll have something to show. Unfortunately, psychologists have noted that people tend to have a bias to overestimate their own contributions and underestimate the contribution of others. A bit of record keeping can help you counter that bias. The following sections are intended as a template, to help you create a first draft of a written agreement. These agreements should eventually be included in your legal contracts.
Template: Benefits and Accountability for Work Contributions
Regular Work Assignments
The previous section covered work accountability agreements from a macro perspective. This section is about the day-to-day scheduling. If you have a system that works brilliantly and want us to help spread the word, drop us a note. We would love to include more trial-and-error tested approaches so intentional communities can level up more quickly.
Template: Regular Work Assignments
Food and Health
This template is meant to help you document (a) to what extent you have communal meals, and how to organize those; (b) to what extent you are seeking to produce your community's own food; and (c) what high-need health conditions you might be seeking to accommodate or unable to accommodate.
There are many connection between food and health, including this question: What protocols will you have to ensure that foods aren't brought in that could potentially be lethal to someone with an extreme allergy?
Template: Food and Health Agreements
Infectious risk protocols: A template/example for use during a pandemic or for a "medical risk bubble"
General Use of Common Spaces
This section is about upholding shared agreements about what is or isn't allowed in spaces that are shared, which could include the whole residence or property. This template includes the following sections:
use of age-restricted recreational activities and visitor access to the shared spaces
cleaning up after yourself
what changes you can make without group agreement
noise restrictions
technology use
parenting decisions that affect the community, such as the extent of supervision expected on site
farm animal and pet restrictions
Template: Agreements for Use of Common Spaces
Resource Sharing
This gets to one of the most attractive parts of community. Resource sharing can provide a high quality of life at much less expense than it would take for an individual or family to own and maintain all the material comforts and possessions on their own. Of course, it only works if everyone keeps the group's agreements about shared items. There's an adage that applies particularly to the tricky topic of resource sharing: if you fail to plan, you plan to fail. While there is plenty of good will and generous intent to go around in the forming phase, there will come a time when this gets strained. It helps to remember that human nature is complex. Even with the best of intentions, misunderstandings occur. As much as you may hate the tediousness of creating a written document, it is important to spell out the details. Here's our template for helping you write up your group's agreements:
Template: Agreements for Resource Sharing
Membership Selection Process (Joining & Leaving)
It is important to be clear about requirements so that prospective members have clear expectations about a path to long-term membership. It needs to be written, so it can feel consistent and fair. One person may have more openness and want to invite in all their friends, while others may be more cautious and careful about who is included and what they bring to the group. It's important to agree on a process that everyone can live with. Some of the following list is based on Jonah Mesritz' community guidelines as described on episode 6 of the Inside Community podcast. Here's our template for helping you write up your group's agreements:
Template: Membership Selection Process
Template: Diversity and Inclusion
Conflict Management
What is your planned conflict management strategy? See our notes from a talk by Diana Leafe Christian on resolving the three types of conflict in ICs. ICmatch created a summary that details several available options for group processes, some of which focus on conflict management. The page on personality types can also be helpful to your group in understanding each other. Opposite temperament styles can cause division and difficulty, but by reading up on the strengths of other styles, the differences can be valued as bringing balance and important alternative perspectives.
Template: Agreements for Conflict Management
Cohesion-building (Getting Along)
Here's our template for helping you write up your group's agreements:
Guidelines for Making Agreements for Cohesion-building (Getting Along)