Here's how the registration and login process is supposed to go. Reading this could help you figure out what's next or communicate better with the help personnel about where you're stuck. If a video tutorial is easier to track, here are two options.
1. Find registration form.
In the menu, find the page called Match for Free! On that page, there's a purple bar near the top (as pictured below). Click or tap where it says Click here to register.
2. Read terms of use.
Please take two minutes to read at least the first section in the Terms of Use. Find the link as seen in the image below (in step 3), in the sentence above the purple box.
3. Complete registration form.
Next, fill in the fields of the member registration (shown below). Then click Register (orange button at the end).
4. Verify email address.
Next, you should get a verification email from our automated system. If you don't see it, please check your spam folder. After opening the email, click to verify your email address. You'll get a verification of the verification.
5. Add profile picture.
When you verify your email address, you'll be linked to your My Account page. Click on the top tab labeled Profile. There you can upload a photo or create a memoji. This needs to be done before you can take the next step.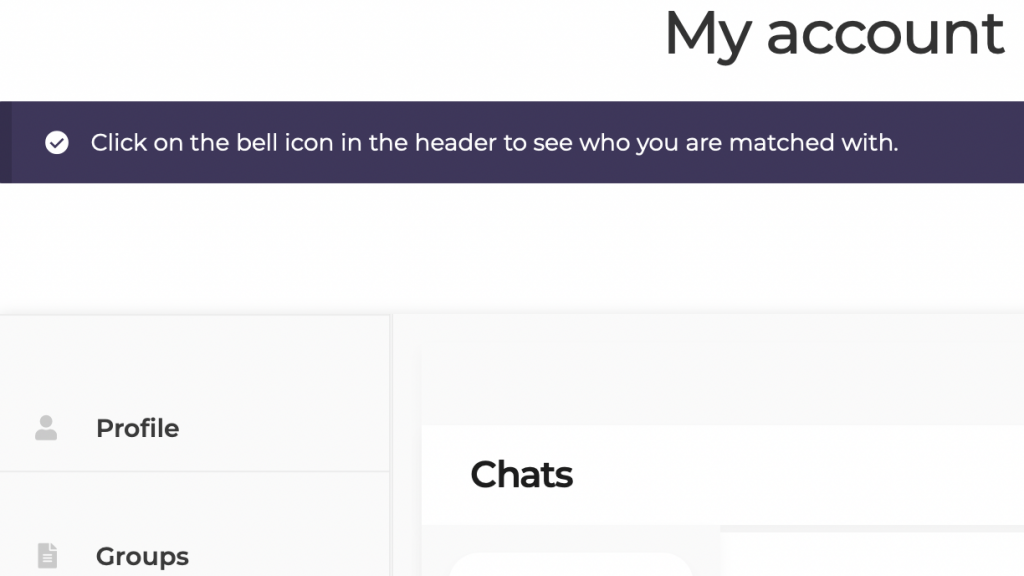 6. Answer matching questions.
At the profile page (accessed from your My Account page), notice at the bottom left a circle graph (pictured below). The Profile Completeness circle graph will prompt you toward the next steps to complete your profile. Click on "Top Qs" to start answering the matching questions. If you're curious how you'll be matched with other members, scroll to the end of the Match for Free! page. Plan to take a half hour or more to answer this first set of questions. If your session of answering these questions gets interrupted, you can come back to them. If you want to change your response to a matching question, you will be able to (step 9 tells how).
7. View your matches.
The bell icon in the menu bar will have a badge (like below) if you have a new match. You'll also get an email when you have a match.
8. Log in again.
If you need to log in again later, here's how. From your computer screen, the top right of the menu bar should show a login button or from your phone screen, you'll see a head-and-shoulders person icon. These bring you to the login screen. Use your username (not your display name) or your email address to log in. After you log in, you'll see a "My Account" button or a person icon. Click or tap there to make changes to your account or profile.
9. Answer more questions.
If you didn't finish the matching questions, please do that first. In your My Account page you'll see the top tab labeled "Profile." Go there. Click or tap "Top Qs" or "Profile Qs" under the circle graph at the end of the Profile page. You can also find the matching questions and more questions in the tab labeled "Profile Qs." This is where you can change your former answers. When you click or tap categories for questions, that set of questions will drop down. Click the category name again to hide the questions. At the top of each category's questions, look for the questions labeled MATCHING Q. There you can change responses to the matching questions. It would be great if you answer all or most questions. A lot of people will be shy about asking, so giving them answers up front is a huge help.
10. Create or join a group.
After your circle graph shows a completed profile (see below), you will have a new tab at your My Account page. The Groups tab will allow you to create a 100-word group profile that will show up in the Team Up page. It will also contain a link to your profile and any members who join your group. Others can request to join. At the Team up page, members can use the search fields to find groups. Click or tap on "view group." Below each group description, you will see a profile thumbnail of members. You can click or tap thumbnails to see the full profile. At another's profile page, you can click or tap "send message." You can also invite others to join.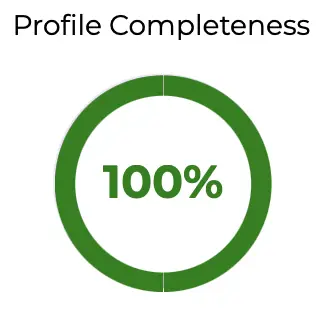 Whether you use an Android or iPhone, you can easily add a home screen icon that looks just like other app icons and is a shortcut to a webpage. For an iPhone, in the web browser go to the desired page, tap the Share button (square with up arrow), hit "add to home screen," then select "add." For an Android, launch Chrome then go to the webpage you want to make a shortcut to. Tap the vertical ellipses (…) on the screen to open a menu, and then tap "add to home screen." Alternatively, using the Samsung internet app, go to the webpage you want to make a shortcut to. Tap the menu icon. Tap "add page too" (next to the plus sign). Tap "add to home screen."
Our coding is original. We have avoided use of plugins, which can have cybersecurity risks. We take all standard safety precautions in payment processing. Our webhost GreenGeeks has the latest technology in security features.
We get it. There's a lot of personal information in the profile. That's why we use a memoji instead of a photo. We also ask you not to use your real name as a display name. The chat function on the website allows you to communicate without sharing your contact information until you feel comfortable. See our Privacy Policy.
Make sure that you have completed the sign up steps. Tell friends about the website so they can sign up and see how well you match. Take the time to answer all the questions. You never know which are most important for others to know. Others might feel more comfortable contacting you when you show you're serious about letting them know who you are. You might also consider being more open about what traits or situations you will accept. Yet it's best to stay consistent with what you actually prefer and believe. You'll only set yourself up for frustration—and eventually annoy others—if you try to present yourself in a way you think others would be impressed by, but doesn't match how you typically are.
They will not see your email address or user name. You should use a display name that you don't use on other platforms, and not your real name. Communication with others can stay on the platform until you feel it's safe to give out your contact information or meet up with people. All the profile questions you answer will be visible to other registered users.
As a subscriber, your profile will show up on all of the community types pages that you select as a main interest. As a non-subscriber, others can access your profile thru searches from the Match for Free page, the Team Up page, and the Consultants page if you are a consultant. Yet some may choose to look for members or consultants on only one community types page that most interests them. They may be looking for the most interested members, thinking that subscribers are more likely to be the most invested. As a result, you may get more visibility by subscribing.
Our rates are affordable. You can cancel a subscription at any time. We do not offer refunds.
In general, we refer to Wikipedia for definitions of terms.
Household: Similar to the tax code meaning, for IC purposes "you and your household" indicates people who when they next move, will likely move as a unit.
We need to grow before we can expand. We plan to eventually create a more inclusive platform that can accommodate forming communities everywhere. For now, those outside the United States and Canada can still sign up in the "outside" region. Here's a resource for international coliving houses: The Coliving Bible. See also the Crash Pads and Temp Housing section or the Ecovillages page that has a Resources section with links to international ecovillages.
Not only do we insist on ICmatch being a place where communication is respectful, we help you find the right words. If you're reading a chat message, at the top right there's a button labeled "pre-fab responses." Here are the messages that are sent from the three options:
Invitation to check back later: I don't currently have the capacity to look over your profile and respond promptly. If I don't get back to you within a month, feel free to check back if you're still interested in chatting.
Polite decline: I've taken a look at your profile and I don't see that we have enough compatibility in the areas that are most important for me for right now. I'll contact you if that changes. Good luck in your search.
Polite decline and block: I'm convinced that we don't have a level of compatibility that would work for me. I won't be responding further. Good luck in your search.