Leasable Properties Listed on Online Platforms
Many rental listing platforms are not well maintained and contain outdated prices. This happens with sites that rely on people to remove their own listings once they are no longer available. When you reach out to someone who seems to be offering a price below what's typical, it may have been posted years ago. Below are platforms that prevent long-outdated listings.
Zillow Rental Listings
Zillow has probably the most to offer currently, if you are searching for longer-term rentals.
Upsides include the following:
The site stays organized, which saves time. You can easily limit your searches by price point, allowing pets, and many other features you may be looking for.
Mapped listings can easily be viewed, narrowed, or broadened.
You can apply thru the site, to message whoever posted the listing. The property manager or the owner might respond.
Site stays up to date. As a paid service that operates the U.S and territories, it stays well maintained.
If you save your searches, it sends you emails of new listings that match your saved search.
They give both you and their listing customers your credit score (a "soft pull" or "soft credit check" that won't count against your credit score) and a background check. The background check includes looking at whether you have ever brought a suit against a renter. If you've filed such a suit more than once, they may suspect you to be a "professional tenant" who games the legal system to avoid paying rent while living in a rental unit. As a positive side of this check, you can screenshot the reports they provide you and give those also to others who would be interested to know. Be sure to include in your screenshot the url, so it looks less as if you may have manufactured the image.
Some property managers use Zillow to advertise, because it's more widely known than the individual sites that property managers may also have for their own business.
Potential downsides:
They require a $40 fee to apply thru their site, for access to the contact info. As of this writing, the site says the fee goes toward the rent if you rent one of their advertised locations.
You have to put in the time and effort to sign up and provide quite a bit of information. They want to see documents showing your income so they know whether or not you can afford to lease.
Listings of this type (6- to 12-month leases) usually require first and last month rent upfront, plus a security deposit.
FurnishedFinder.com
This site advertises rooms or apartments for traveling professionals, especially those in medicine.
Upsides include the following:
Most offer a low rent for a furnished room in a house, usually with a private bathroom, sometimes with a full kitchen or kitchenette.
Rent price usually includes utilities, so a listing should state if any utilities are separate.
Site stays organized, which saves time. You can easily limit your searches by price point and many other features you are looking for.
Mapped listings can easily be viewed, narrowed, or broadened.
You can apply thru the site, to message whoever posted the listing.
Site stays up to date. It stays well maintained because it charges the property owner/manager $99 for a 12-month listing.
You can save your searches.
You can access names and phone numbers and message property posters thru the service.
Some lodges, timeshare condos, and extended-stay hotels also advertise on furnished-finder.
Potential downsides:
Site intends to serve medical professionals who have temporary assignments, but it also says "other working professionals." Some may ignore you as potential riffraff if you don't match that description, so make sure to indicate your respectability and trustworthiness.
Those offering a room only may have a limit of one person, because often they are renting in their own home, even if partly separated.
Most require at least a one-month or three-month stay. They usually look for renters wanting several months or a year commitment.
Some (but not all) request the first and last month rent up front, plus a security deposit.
Not many rentals listed here accept pets.
Facebook Marketplace
Upsides include the following:
Many towns or neighborhoods show a page for locals to post "in search of" (ISO) requests. These can help you find potential co-renters. You can message them with your icmatch.org URL to give them more information about you.
Many people use these sites because they are so easy to post on.
Posts link to a FB profile, so you can check out how long they've had an account and who they know. Not many could fake this, so it provides some level of trust.
You can instant message thru the site.
The most current listings stay on top, and you can see how recent the post is.
Potential downsides:
No specialized search function to narrow down options by the criteria you are looking for. You might spend hours and find nothing useful.
Once you direct message someone, when they respond, you may forget which listing was theirs. Asking them to point you back to the correct listing may make you seem like you don't keep track of things, or they may simply ignore your note if you're asking them to do extra work of repeating their information or pointing them back to it.
These sites may have moderators, but they aren't paid, so they usually lack oversight.
Some sites insist they only accept posting of places to rent, not for posting a rental need (ISO). You'll notice that people often ignore the request to not make ISO posts on their site, which makes the pages less useful to those who only want to find people offering a place.
Craigslist.com
Upsides include the following:
One of the longest-standing rental postings.
You can use limiters for search criteria
Property offering versus requests are kept in separate categories (unlike those on FB)
List and access listings for free.
Potential downsides:
No oversight; no rating system or accountability.
Listings may include scams or properties with hidden downsides. People who got dinged for irresponsible behavior on other sites can still use Craigslist. Proceed carefully with these properties. If you find one that seems promising, it may be best to pay as little in advance as possible, so that if the deal turns bad, you will minimize your losses.
Other Platforms
Many new platforms lack postings outside of major metropolitan areas. Many offer syndicated listings, meaning a property owner signs up with one platform and gets listed automatically in several of these.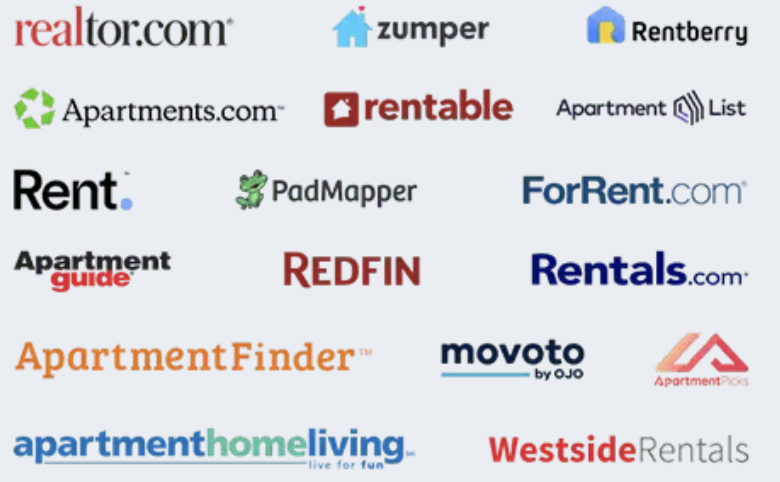 Local Property Managers
If you search online for a local property manager, or walk into a local realtor's office, you may discover property managers who manage local rental properties. There are many benefits to this approach.
Upsides include the following:
You won't have a chore keeping track of which listings are current. The property managers stay on top of that, because they get paid to do it.
By filling out an application with them directly, you may get access to newly available properties before the manager posts an ad.
Many show you a place in person.
If you look good in credit score and background checks, you have an advantage with this approach.
Potential downsides:
Property managers want to make sure their work pays off and that you are trustworthy. They typically expect a year-long lease, a security deposit, first and last month's rent up front, a credit check, contact information from past landlords, and personal references.
Some might insist on you seeing a place in person before committing to it.
No-lease Month-to-Month Coliving Managed by Online Platforms
The following shared housing platforms focus on metropolitan areas. The residences are owned and/or managed by corporations: common.com, coliving.com, anyplace.com, cohabs.com, embassynetwork.com (international), roam.co (with a set fee for multiple locations), Tribe in San Francisco, and Coliving in Toronto. With these coliving units, you don't choose your house mates, although most have some way of evaluating compatibility beforehand. You also don't need to negotiate with housemates, as your expenses are paid to a hosting company. GeekWire discusses the growing popularity of this option.
Specializing in Vacation Rentals
Airbnb
Upsides include the following:
Flexible length of stay
A variety of options from camping sites, to rooms in a house that may be rented by others, to entire home-and-yard rentals
Huge market share, so you will find more options than on many other platforms
Ratings and feedback for both renter and host
Customer service by phone or email
Top-notch functionality of website features
Possible downsides:
When comparing options, the per-night rate will look lower than the actual price, unless you turn on the option "Display total price | Includes all fees, before taxes."
Airbnb now must collect and remit occupancy tax in behalf of the homeowner.
Budget
Hipcamp.com offers tent-sites, RV sites with or without hookups, and other low-cost options.
High-end
VRBO and homeaway: These vacation rental platforms specialize in renting a whole house or apartment, not individual rooms in a home, so most are priced higher. Listed prices show per night rates, even if your dates indicate you need a month or more. The VRBO site offers the more luxurious of the sites listed by these sister platforms.
Occupancy Tax
Whether or not you must pay occupancy tax for a 30-day or longer stay at an Airbnb depends on the local laws and regulations. In most cases, occupancy tax only applies for short-term stays, typically 29 nights or less. In these cases, you will pay less for a month-long stay than for a slightly shorter stay. However, some jurisdictions may charge occupancy tax for longer-term stays, or may have different rates for long-term stays.
Whether or not you must pay occupancy tax for a 30-day or longer stay at an Airbnb depends on the local laws and regulations. In most cases, occupancy tax only applies for short-term stays, typically 29 nights or less. However, some jurisdictions may charge occupancy tax for longer-term stays, or may have different rates for long-term stays.
You can check with the local tax authorities to determine whether or not occupancy tax applies for your Airbnb stay. You can usually find this information on the website of the local government, or by calling the tax office.
Here are some examples of how occupancy tax for long-term Airbnb stays in different jurisdictions:
In Canada, occupancy tax generally applies for stays of 28 nights or less. However, in the province of British Columbia, occupancy tax does not apply for stays of 28 nights or less if you have a written rental agreement in writing and the guest qualifies as a resident of Canada.
United States: In the United States, occupancy tax rates vary widely from state to state, and even from city to city. In some jurisdictions, occupancy tax only applies for short-term stays, while others charge occupancy tax for longer-term stays as well. For example, in the state of Colorado, occupancy tax applies only for stays of 29 nights or less. However, in Denver, occupancy tax applies for stays of 30 nights or less.
No-lease Month-to-Month Rooms or Private Units Listed by Online Platforms
These companies provide accountability with two-way reviews, but renters book with independent hosts, rather than the company owning the properties. Some of these facilitate financial transactions, but others don't. For those that don't, take precautions. As a trade-off for lacking a managerial company setting up safeguards, you also avoid added fees.
Furnishedfinder.com (with pros and cons listed above in the long-term section) often accommodates month-to-month room rentals by owner. It does not book the stay and does not manage any rent transactions. It does not charge extra fees to the renter.
Padsplit offers a once-a-week all-inclusive bill for a private furnished room and all utilities. It facilitates the relationships and manages payment processing and background checks.
Spareroom.com helps you find a rental alone and possibly also a roommate offering the space. Reviews indicate some vulnerabilities. Make sure to avoid being exploited. It does facilitate payments.
Friendsmates.com offers community oriented features but limits listings to these metro areas: Los Angeles, San Diego, Austin, and Tulum.
Work-trade for Housing
Some of the following sites charge a fee to access listings.
Trustedhousesitters.com connects temporary housesitters or petsitters to homeowners happy to offer a free short term stay. As a downside, you can't choose the length of stay, because it depends on the homeowner's vacation dates. Several other sites offer similar services, but this site doesn't lead you to believe it is free, as some others do. Some house/pet sitting sites specialize in long-term. Because of limited listings, use those that allow you to search for relevant listings before you have to pay or do the work to sign up. You might also try using a general google search such as the word petsitting with your desired locations, if you need a specific area.
Some sites match elderly homeowners with a younger caretaker who stays for free in exchange for negotiable chores. Try out this leading senior homeshare site: silvernest.com. The National Shared Housing Resource Center keeps a directory of U.S. homeshare programs. Similarly, canadahomeshare.com matches college students to elderly homeowners.
Meetmyrumi.com could match you with someone who needs disability assistance. Some will need minimal care, and others could need substantial care that you would be paid for providing. These sites require some level of vetting and oversight by government or non-profit agencies to ensure ethical treatment and to manage payments.
Nesterly.com matches younger renters to seniors or people with a disability, for reduced rent.
Scouting Around in Person
If you live outside your planned location, it may help to visit the area while you scope out the possibilities. Extended stay hotels and vacation rental platforms (e.g., Airbnb and Hipcamp) are options that offer a balance of flexibility versus affordability for week-long or month-to-month stays.
If you search in a specific neighborhood, look in person for signs on houses and apartments to find a rental thru an individual property manager. You still may find people who prefer the advertising modes of decades past, even notes on billboards of informal community hubs.
Roommate Finders
Short-term easy-to-find: This link shows many free or paid roommate and housemate finders. Facebook local rental pages allow you to scan for people looking to share the cost of housing. As a way to save time finding a good fit, fill out a profile for free with icmatch.org then include a link to your profile when you message potential roommates. Find rental agreement tips online. For example, when sharing a single residence, you might split rent by bedroom, utilities by number of people.
Long-term high compatibility: ICmatch could help if you need a highly compatible long-term live-in housemate situation where you feel as if you're living with a friend, whose company you enjoy when you're home. For your profile, in the co-housing section you can indicate that you are looking for roommates and/or housemates and select "rented cohousing" as an interest. See Trial run: Join a Household, Metro Apartment Coliving, or other ICmatch community types.
Apply for a rental as co-applicants: A community-house creator shares three decades of experience about how to find and rent an affordable house together.