The work that needs to be done to save many species from the current rapid extinction, and possibly the human race among them, seems overwhelming. If continued only by the dedicated protestors and political lobbyists, it can never scale. Most people are convinced that we have serious problems, but they feel powerless and too busy surviving, just making ends meet. Our attention is fragmented, and people mostly numb out or seek diversions in their time off. There seems to be no way to muster the political will in sufficient numbers. By the time we become motivated by desperation, it will likely be too late. Transformational events help rally support for group efforts by giving people more of the camaraderie and playfulness that make life worth living.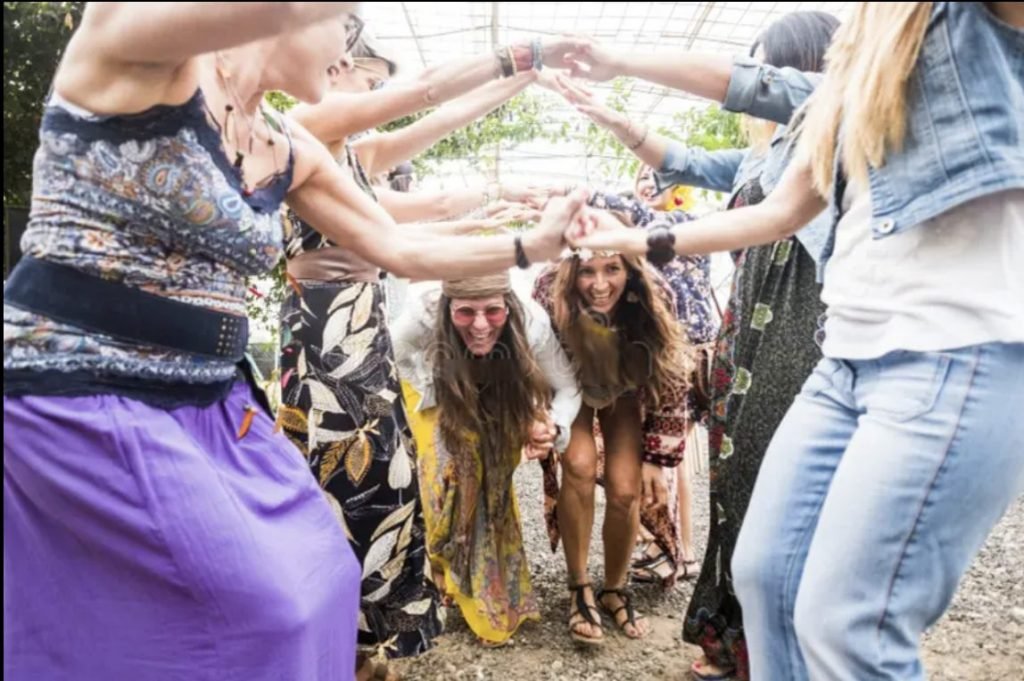 photo by Simona Pilolla
We can turn the work into play. Most humans—including introverts, if it's designed to appeal to them too—have an endless appetite for conversation and play. How do you introduce and convert thousands of consumers into the barter and gift economy, at least for a week? Burning man. How do you get millions to envision new political possibilities? Dystopian movies. How do you push into public awareness systemic inequalities most of us would prefer not to think about? The arts via social media brought to our awareness the need for change, with movements like occupy, "me too," and Black Lives Matter. We can create a vision of a future society that is alluring and realistic. Many of us have experienced it briefly, maybe most of us.
Plan an event of a size that you feel capable of overseeing. Think of yourself as the project manager rather than trying to put yourself in multiple roles. You'll be busy enuf as unexpected situations arise. Try to spread the workload enuf that you can enjoy the event yourself, even if you are perpetually on call. Delegate and ask for volunteer participant help when a situation calls for it. Many will jump at the chance to get involved. Don't get too stressed, because these should all feel like friends, or at least a group that wants to see you succeed. It's not a corporate event where you'll be judged for not measuring up to big-budget standards, and the event's mishaps nitpicked on social media.
If you aren't confident of attracting busy adults while your group is still learning how to co-produce events, make a spring break retreat or summer camp for teens motivated by the idea of contribution to environmental work. It's a win for them if they have some positions of responsibility they can name in their school applications. School counselors can help you know who to contact to advertise and fill it up. There may be teachers familiar with the age group willing to join in to supervise. It will help parents feel confident about the safety of their teens if you let them know the staff-to-student ratio.
You might hire a fundraiser. If it's your first time, it would be a great idea to hire an event planner to learn from, preferably someone who has hosted an event like yours. To create a quality event on a budget, you might offer your team of external collaborators to split any profits instead of offering a guaranteed pay. This will be extra motivation for them to invite their own networks to participate. Reaching out to professionals who are newer in their work will give them an opportunity to network and gain experience.
Invite group work facilitators. Incorporate play. Hire improv artists. Invite art therapists to lead visionary collaborations with story and illustrations. Invite private game-makers, musicians, and dance facilitators. Repurpose local D&D game-masters to orchestrate the improvisation of sagas for solving real-world challenges, asking questions such as this: How will you respond to climate migrants or war refugees, possibly illegal, coming into your neighborhood? See if you can attract one big name in your locale to draw more interest if it feels like a good fit. They may be willing to come for free with the offer of accommodations, if they resonate with your mission.
Many conferences get good quality help by offering their volunteers free attendance to a certain number of events. If you can set them up with sociocracy self-management structures, you should ease up the burden your own group has in management, so that you'll all end up willing to repeat the experience. Some volunteers from coliving communities may be experienced at coordinating large meals or group work. Photographers and filmmakers would be a great addition, to ensure that your help gets some evidence of their work in action. College or even high school students may be willing to come for free as a project, and may have access to professional equipment for their job.
Some ecovillages have built physical structures during permaculture learning workshops. You can hire natural building experts to guide the group work. Your festival or workshop could include building structures to use or to sell, such as tiny homes or large fruit dryers. A more ambitious project for a garden addition could be a cob-built half-in-ground root cellar with glass brick windows for light. A small project could be a cloche for a warm-climate tree.
You might team up with an existing or forming-phase intentional community to build on their land. If they are looking to add members, this can be a great opportunity for them to attract attention. If you're worried about getting in over your head as you gain experience, you might rent campgrounds where you can build structures, to later move to their intended locations. Set up solar showers near tent sites for larger groups. Map out the activity areas and get these checked in advance for any permissions you need.
Get donated food and drink. Local and attending craft food and drink makers will love the attention they can get for their products. Make the first day your biggest work push, because there will be some that unofficially party too hard the first night and may spend the remainder of the work days recovering, especially if you're at a higher altitude than they're used to. Try to slow this trend by having mandatory-sober small facilitated circles the first night, with the party time promised for a later night or two.
While you might hesitate to have a lot of rules, knowing you'll have a largely counterculture crowd that will ignore many of them, it's still good to put up signs so people know what to expect and what's expected of them. It can create awkwardness and chaos if people don't have enuf direction. Even if you're tolerant of constant deviations, there will be some attendees who really want to know where they can get some privacy or quiet if they need it. It helps to have your on-call people clearly indicated by some easily visible same article of clothing, or staffing a booth at a consistent location.
Ria Baeck, contributor to both Percolab and Enspiral, writes of transformational events:
These retreats and gatherings aim to build an experience of community, pay a lot of attention to building relationships, seek the collective intelligence of all present, and mostly support the commons in one way or another" (Microsolidarity, n.d., para. 1). As your event ends, invite participants to contemplate this question: How can this experience of connection among the event participants—and communities themselves—last past the "honeymoon" phase? How can groups turn ideals into long-term reality within their lives together?
Charles Eisenstein speaks to how our shared experiences can cultivate better human relationships as we create even brief weekends with the kind of culture we want to live in regularly.
A more beautiful world is possible.… One way that we know that is through experiences that emanate from that more beautiful world, that touch us with an experience of what human being-ness could be, what human relation could be….experiences of kindness, of unconditional love, of forgiveness, of generosity that emanate from a more beautiful world and help raise our expectations for life and condition us to that future, and that then give us the faith that we need to step across the line, to step across the across the threshold and ask for this future. (Rebel Wisdom, 2020, 58:15)
References accessible here.