Here's how the registration and login process is supposed to go. If a video tutorial is easier to track, here are two options.
If you get interrupted or confuzzled during the registration and login process, reading this could help you figure out what's next or communicate better with the help personnel about where you're stuck.
1. Find registration form.
In the menu, find the page called Match for Free! On that page, there's a purple bar near the top (as pictured below). Click or tap where it says "Click here to register." This will bring you to the brief member registration form.
2. Read terms of use.
Please take two minutes to read at least the first section in the Terms of Use. Find the link as seen in the image below.

3. Complete registration form.
Next, fill in the fields of the member registration (shown below). Then click Register (orange button at the end).
4. Verify email address.
Next, you should get a verification email from our automated system. If you don't see it, please check your spam folder. After opening the email, click to verify your email address. You'll get a verification message as shown below.
5. Add profile picture.
When you verify your email address, you'll be linked to your My Account page. Click on the top tab labeled Profile. There you can upload a photo or create a memoji. An image needs to be added before your profile will be complete.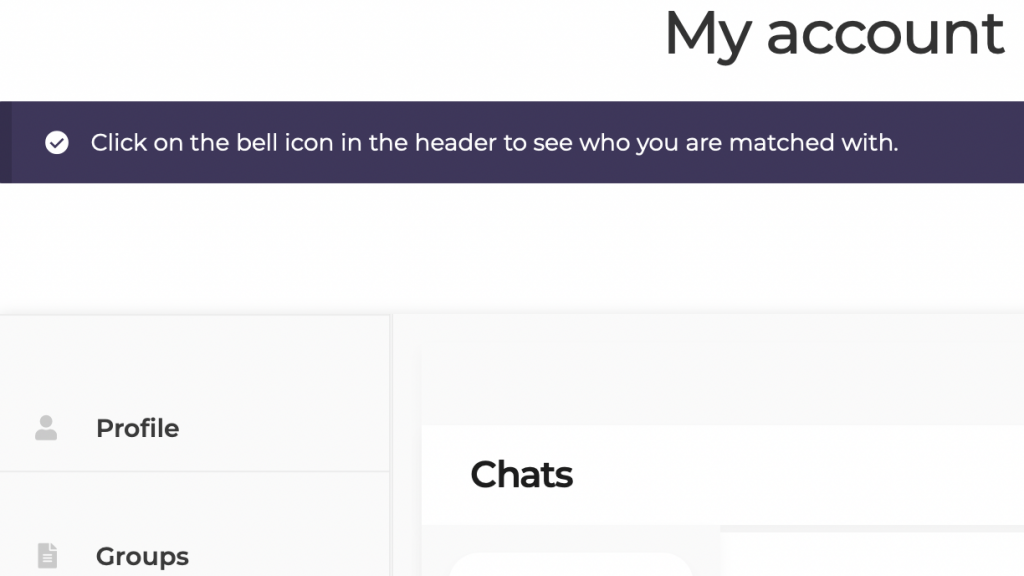 6. Answer matching questions.
At the profile page (accessed from your My Account page), notice at the bottom left a circle graph (pictured below). The Profile Completeness circle graph will prompt you toward the next steps to complete your profile. Click on "Top Qs" to start answering the matching questions. If you're curious how you'll be matched with other members, scroll to the end of the Match for Free! page. Plan to take a half hour or more to answer this first set of questions. If your session of answering these questions gets interrupted, you can come back to them. If you want to change your response to a matching question later, you will be able to (step 9 tells how).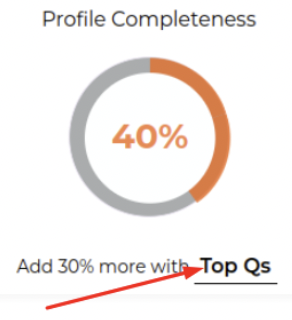 7. View your matches.
The bell icon in the menu bar will have a badge (like below) if you have a new match. You'll also get an email when you have a match.
8. Log in again.
If you need to log in again later, here's how. From your computer screen, the top right of the menu bar should show a login button. From your phone screen, you'll see a head-and-shoulders person icon. These bring you to the login screen. Use your username (not your display name) or your email address to log in. After you log in, you'll see a "My Account" button or a person icon. Click or tap there to make changes to your account or profile.
9. Answer more questions.
If you didn't finish the matching questions, please do that first. In your My Account page you'll see the top tab labeled "Profile." Go there. Click or tap "Top Qs" or "Profile Qs" under the circle graph at the end of the Profile page. You can also find the matching questions and more questions in the tab labeled "Profile Qs." This is where you can change your former answers. When you click or tap category labels (in purple text), that set of questions will drop down. Click or tap "submit" to save your responses. Click the category label again to hide that set of questions. At the top of each category's questions, look for the questions labeled MATCHING Q. There you can change responses to the matching questions. It would be great if you answer all or most questions, over time. A lot of people will be shy about asking, so giving them answers up front is a huge help.
10. Create or join a group.
After your circle graph shows a completed profile (see below), you will have a new tab at your My Account page. The Groups tab will allow you to create a 100-word group profile that will show up in the Team Up page. You can invite others to join. Your group profile page will also contain a link to your profile and any members who join your group. Others can request to join. At the Team Up page, members can use the search fields to find groups. Click or tap on "view group." Below each group description, you will see a profile thumbnail of members. You can click or tap thumbnails to see the full profile. At another's profile page, you can click or tap "send message" to start a chat.