Small farms or ecovillages may play an important role in emergency preparedness and should be able to profit from this potential. The emergency timeshare contract is one way to potentially bring in funds at the present time for a service that will be provided at an unknown time in the future. That future service is to house people who have experienced a natural disaster that has made their current housing uninhabitable, and which likely would have reduced or eliminated the supply of available short term rentals in the area. Including disaster relief temporary shelter as a function of an intentional community also can help create ongoing supportive external relationships.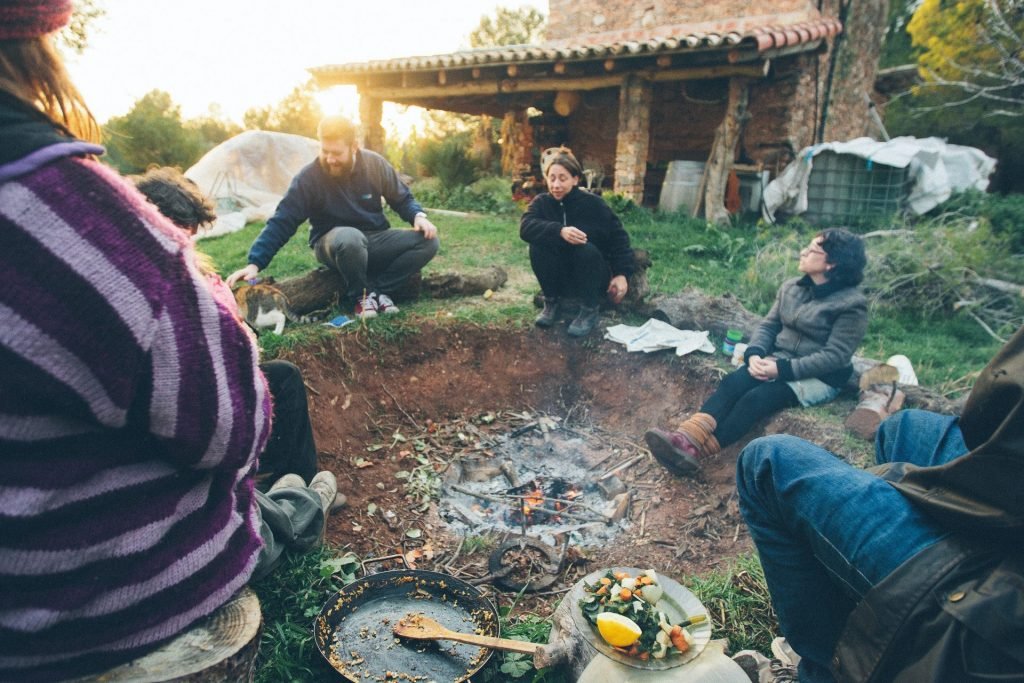 Emergency Timeshare Contract: A Template and Example
X ecovillage/farm is situated on x acres in x county. We have x permanent long-term residents and have been members of the Foundation for Intentional Communities for x years. The leadership consists of… and has been stable since…. Reviews of our establishment and leadership team can be found at…
We are offering a limited number of emergency timeshare contracts that will afford the purchaser 3 months of shelter, food, and other necessary provisions in the event of an emergency. Contracts will be valid for a 10-year period and can be renewed. Longer stays can be negotiated if needed. Contracts include access to a share of the following resources:
Provisions Included
Water: We have a spring on the property that runs year round and is uncontaminated.
Food: We have x lbs of beans and grains stored for emergency use. You are welcome to store on the property x lbs of your own provisions, labeled with your full name, in waterproof rodent proof containers, up to a volume of 1.5 cubic meters.
Fuel for cooking and heating: We have firewood stored and acres of wooded area from which to gather wood.
Energy: We have the following provisions for solar electric: ________.
Gardening: We have a garden and wild edibles on the property to be harvested on an as-needed basis at the owner's discretion, due to our need to ensure a seed stock.
Emergency subsistence: Two members of our community have survivalist training.
Safety: Two members of our community have first responder training and first aid supplies.
Hygiene: We have a septic system and have protocols for safe waste and wastewater management for groups during an emergency.
Shelter: There are four houses, three of which can be reserved for your and your companions' sole use. At a lower cost, there are some tent shelter spots available.
Training for Community Living
In the event of an emergency, we will need to work together, possibly under stressful conditions, and definitely with some who will be experiencing grief and anxiety. It will be helpful for the group of potential emergency residents to know each other and practice consensus decision-making beforehand. We will invite you every odd-numbered year to gather for a weekend (one overnight) of workshops and team-building activities. The cost of these is included in the contract payment, with no refund for non-attendance. We expect a good-faith effort to attend. After a natural disaster, members may be grieving loss of loved ones and substantial assets. Emotional distress can lead to heightened challenges interacting with a group. If emergency residents have some amount of familiarity with daily routines of group planning, mealtimes, and available pastimes, this can alleviate the pressure on the management and staff as they attempt to meet the needs of all present. Your participation can help facilitate a more comfortable and safe experience for the long-term and short-term residents. The training is valuable for leadership and interpersonal relationships. We aim to make the gatherings a retreat-like experience where visitors enjoy conversations and practice useful decision-making skills.
Available Shelters
We have x tent spots and tents. The common areas and bathrooms of the main house will be available to tent-site renters.
Upper house: This can be reserved for your and your companions' sole use at the price of $___. It has x bedrooms and 1 bathroom.
Artist studio: This can be reserved for your and your companions' sole use at the price of $___. It has one futon bed and 1 half bath.
For further details about the site, see the Airbnb accommodations labeled ______ and the Hipcamp accommodations labeled ______.
For a vacation that is not an emergency, you'll need to pay the same booking price as anyone else. You'll still book thru Airbnb for non-emergency stays. Whoever may be temporarily renting each place will be allowed to remain on the property during an emergency, but will need to relocate to a tent site to make space for the owner of the emergency timeshare contract after their own contracted stay expires, or work out a shared tenancy agreement. The short term renter may negotiate a rent depending on how long they extend their stay and utilize emergency provisions.
Whatever short-term renters are currently on site at the time of an emergency, we're not going to send them off site if their own homes are inaccessible or most likely uninhabitable, so you may have to share housing and outdoor accommodations with some people who you are not familiar with until the end of their contracted stay, at which time they will be offered other on-site lodging.
Emergency Access
We will define your access privileges in this way:
Earthquake: If your apartment or home became uninhabitable or you fear looting and rioting as a result of a social unrest that is developing, that is an emergency, but let's discuss it before you come if communication allows. A few break-ins nearby doesn't mean there's widespread danger. In a small-scale emergency, you will use up some of your 60-day emergency time allotment or pay as an Airbnb guest, as decided by owners after negotiating with you.
Pandemic: If the CDC reports a transmissibility level and lethality greater than or equal to the first major outbreak of COVID-19, and you are in a high risk group, this constitutes an emergency for you.
Other: If FEMA or the national guard is called in and your home is within the boundaries of the stated area of disaster, you will be allowed emergency access.
We recommend packing a 72-hour emergency backpack that includes a printed map to the property (see maps section with detailed travel directions). Some keep their emergency kits in their car, which may make their kits more accessible when buildings have collapsed.
Map
You are responsible for transporting yourself to the property. The approximate location is shown in the map section. You will be provided with pdf maps upon payment of contract. Please prepare yourself with any additional printed maps relevant to your likely travel route. As you may know, you can travel safely by foot or bike on the Golden Gate Bridge, as there is a divider for traffic. The bridge is overly reinforced to be able to withstand severe earthquakes. Google maps says it would take 7 to 10 hours by foot, starting from Golden Gate Park, depending on which route you take. It is about a 45 minute drive.
Your Responsibilities During an Emergency
Follow the site rules and the group rules created by consensus.
Participate in 1/2 hour morning meetings that keep everyone informed.
Participate in hour-long weekly consensus decision-making processes.
Use good judgement to preserve the physical and mental wellbeing of yourself and others.
All able-bodied persons will be asked to assist if there is a crisis that threatens group safety.
Added Unapproved Guests
Unplanned added guests must be persons who were houseguests of yours during the time of emergency. The landowner has the right to refuse or grant access. Added guests will need to be in your lodging, share your rations, and will be assessed a negotiated lodging fee afterward, roughly equivalent to the Airbnb lodging rate for the time they stay. You may not receive payment from them for the access. Any person included in your contract or as your guest, 13 years of age or older, must have access to participate in group decision-making.
Drugs
Marijuana and tobacco use is allowed outdoors only. There are ashtrays located in the outdoor seating areas. Be responsible about fire danger. To ensure the safety and well-being of us all, we need to ensure that we are not accepting people who are struggling with addictions in a manner that substance abuse or withdrawal symptoms would become problematic for community life.
Acceptable Behavior
Unacceptable behavior will be discussed by the group. Ultimately at the landowner's discretion, if a group member is repeatedly non compliant with pre-established rules or with consensus-based decisions, they may be made to leave the property or to isolate themselves at the periphery of the property: violence or threat of violence, stealing, continually disruptive loudness or rudeness, or socially immature or coercive behavior that threatens group cohesiveness.
To Interview
Please fill out an application form. You may then be invited to a preliminary 20-minute interview online. You may be invited to an extended interview. You need to either drive out to meet in person, in which case the interview is at no cost, and you can see the property. Alternatively, you need to pay $100 for your hour-long remote interview, and you will have access to photos and a video tour of the property.
Privacy
To not be overwhelmed by others in need, should an emergency arise, you must agree to limit knowledge of the details of this agreement to only the adult family members or friends included on the contract, and one distant relative or friend who could retrieve you in the event of extended disaster conditions. If you know others you would like to inform of the contract, let us know, and we will reach out to them if we have more spaces available.
References
Our intent is to accept only people who are word-of-mouth referrals. Others may need to provide up to three character references. Our hope is that the interview process will prevent inclusion of persons who have personality disorders that could cause extreme difficulty in the group. Stressful times can bring out the worst in people, so it will take an effort from all of us to stay in a pro-social and rational frame of mind.
Guaranteed Length of Stay
Most disasters can be ameliorated well before 2 months. For cases in which unsafe travel or living conditions persist, extended stay will be negotiated on a case-by-case basis, depending on the available provisions and the group's willingness to support each other. Those willing and able to assist with gardening, hunting, or foraging are more likely to be invited to stay past the 3-month contract limit. Those with family or other trusted persons who are able to support them in other locations should inform a trusted person in advance of where to come to escort them out of the area.
Cost for 10-year Contract
For each adult or child 100 lbs or more:
For each additional child under 100 lbs:
For each dog over 100 lbs:
For each dog 50-99 lbs:
For each dog under 50 lbs:
Cats must be discussed and would only be an option for those in housing, not tents.
Further cost considerations:
In the event that you do not arrive at the property during an emergency, or if no emergency situation occurs during your 10-year contract, you will not receive a refund.
At the discretion of the owner and other contract-holders, you will have first option to renew the contract if you signal your intention to do so and pay at least 3 months before the end date of the contract.
Transfer of Contract
This contract is transferrable only by agreement of the property owner. If you wish to sell your contract, a buyer might be available from a waiting list. If you leave the contract in your will, the designee(s) must complete an application and be approved. A record of criminal violence or severe psychiatric condition is likely to prevent approval.
Mediation
If the property owner fails to perform any agreed-on functions, or damage to property by a renter should occur, neither side will pursue monetary compensation in court without first in good faith seeking professionally licensed mediation services, to be paid for jointly and equally.
Legally Binding Signature
Both parties should receive a signed agreement. By signing, we both agree to these terms, which are valid only after receipt of payment, and which last 10 years from the date of signing:
Printed name(s): ___________________________________________________
Signed: ___________________________________________________________date: ________
Landowner acknowledges payment: ___________________________________ date: ________
Renter has paid for this lodging (indicate which house or campsite): ______________________
Renter has paid for this number of adults (including myself) ____, children____, and pets_____
Renter is beginning emergency stay on this date (this is to be signed if and when an emergency occurs):
Signed: __________________________________________________________date: ________